Midwest Automotive Designs Passage Sprinter RV Camper Van
Luxury That Goes Wherever You Go
The Midwest Automotive Designs Passage Sprinter RV Camper Van provides stunning luxurious elements alongside unsurpassed driveability.
Enjoy home-cooked meals on the road on the high-quality induction cooktop while your guests relax on the leather power fold-out lounge sofa watching the HD TV screen that is prepped for satellite TV, Wi-Fi, or DVDs. Any leftover food can be easily stored in the full-size refrigerator
You will always have the Midwest Automotive Designs Passage guarantee of high-quality and individualized attention to detail that you can see in the hand-stitched leather seating and polished wood veneer cabinets. The comfortable and luxurious use of leather extends to the captain's chairs while modern interior lighting extends throughout the cabin.
Whether you need hot water or cold air, the Midwest Automotive Designs Passage RV has you covered. Powerful and durable air conditioning will keep you cool during those hot summer nights, and a warm shower powered by a Suburban tankless water heater is just a few feet away when you need to clean up after a long day of hiking.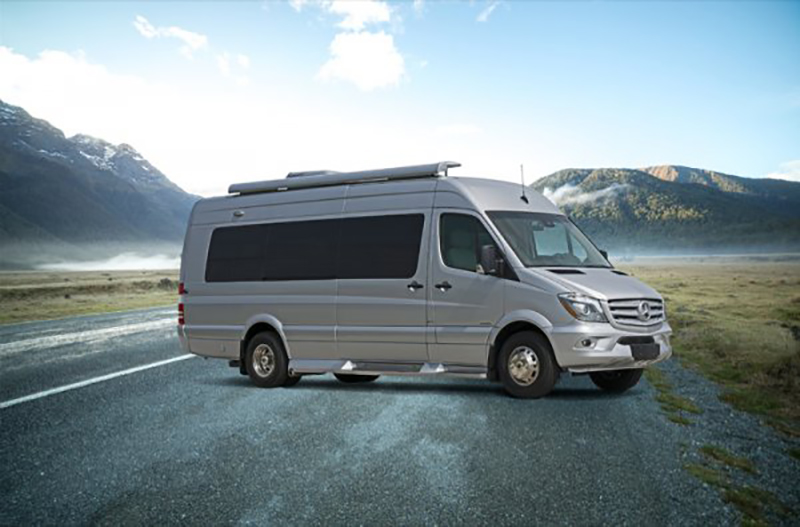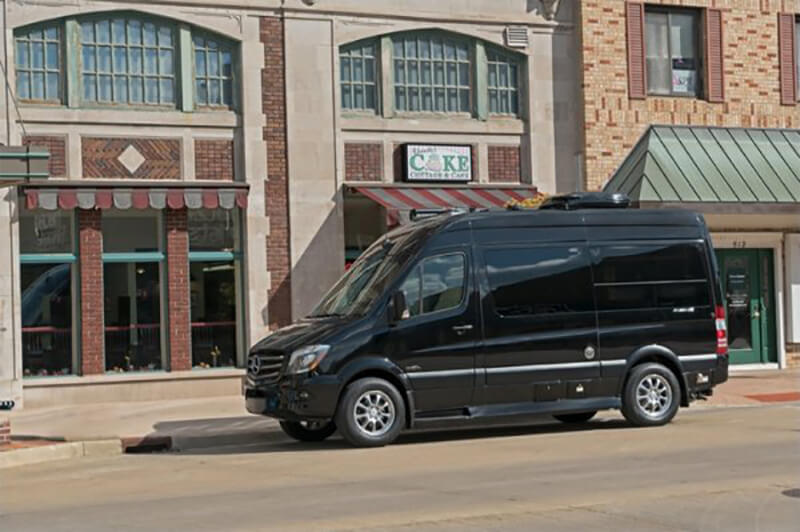 Drivable, Durable, Reliable
Looking for a go-anywhere RV camper van that lets you get away from it all – and take an abundance of luxury along for the ride? Our Passage 144 custom RV camper van checks all the boxes. Meticulous leather-clad upholstery and polished wood veneers throughout the interior confirm its Midwest Automotive Designs pedigree. A cabin full of artfully installed appliances and intuitive electronics offer the utmost in convenience and luxury. The same state-of-the-art lithium-ion battery power system that's available on the longer-wheelbase Passage model lets you replace the noise and nuisance of a fuel-gulping generator with one of the safest, most reliable and environmentally friendly sources of AC/DC power. Air conditioning? Check. Suburban tankless water heater? Check. Solid-surface countertops with an induction cook top? Satellite TV, WiFi and premium sound? It's all there. All wrapped within legendary Mercedes-Benz safety and performance engineering – and a 19-foot platform that allows you to navigate the urban jungle as confidently as you explore the roads less traveled.
Passage Sprinter Standard Interior Equipment
Suburban Water Heater
Wardrobe
13,500 BTU Roof Top AC (shore-line / Gen)
Composite 1/pc Flooring system
2.5 KW LPG Generator
Soft Touch Automotive Headliner
2000 Watt Inverter / Charger / Transfer Switch
Coordinated Door Panels
ECO Charging System
Custom Dash and Door Handle Wood Grain Upgrade
Satellite TV Prep
Custom Floor Mats W/Non Slip Rubber Backing
Wi-Fi Prep
Driver and Passenger Deluxe Seating Recover
HDMI Input
Driver and Pass Front Swivel Seating
110 Volt Outlets
Custom Seating Pkg With Seat Belt Package
USB 12 Volt Chargers
Interior Entrance Grab Handle
Fusion In Dash NAV CD DVD AM/FM
Power Folding Rear Sofa Bed
Samsung HD LED Smart TV
Under Sofa Storage
Rear AM / FM Radio
Rear Luggage Storage Lighted
Rear Blue-Ray DVD/CD Player
Complete Insulation Package
Rear Speaker Upgrades
Complete Privacy Shade Package
Deluxe Lighting Controls (Multi-Plex)
Front Privacy Window Close Outs
Overhead and Floor Courtesy Lighting
Shower
Smoke, LPG, CO Detectors
Retractable Clothes Line
Fire Extinguisher
Shower Curtain
FanTastic Roof Fan w/Remote
Porcelain Toilet
Solid Surface Counter Tops
Power Bath Vent
Sink
Fresh and Grey Holding Tank Heat Pads
Induction Cook Top
Sani Flush Black & Grey Tank Flush
Refrigerator 12 Volt / 110 Volt
32 Gal. Fresh Water Holding Tank
110 Volt Convection Microwave
27 Gal. Grey Water Holding Tank
Removable Table / Dinette
15 Gal. Black Water Holding Tank
Overhead Cabinet Package With Hidden Hinges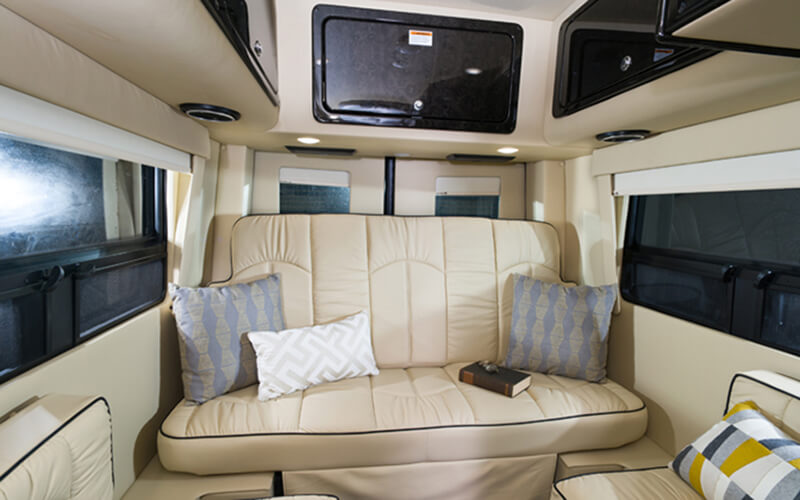 Passage Sprinter Standard Exterior Equipment
Dark Tinted Side and Rear Windows
HD Digital Air TV Antenna
Tip-Out Windows
Cable TV Input
Fiberglass Running Board with Step
100 Watt Roof Top Solar Charging System
Color Keyed Bumpers and Body Moldings
Dual Battery Charging System with Monitor
Rear Hitch with Wiring Package
Lifeline AMG Deep Cycle 225 Amp Hour Battery
16″ Aluminum Wheel Package
30 Amp 110 Volt Shore Line Power Hookup with Cord
Rear Back-Up Camera System
LP Remote Fill 15.1 gal Capacity
Power Awning with LED Light
Water Fill
LED Patio Light
Exterior Shower
110 Volt Outlet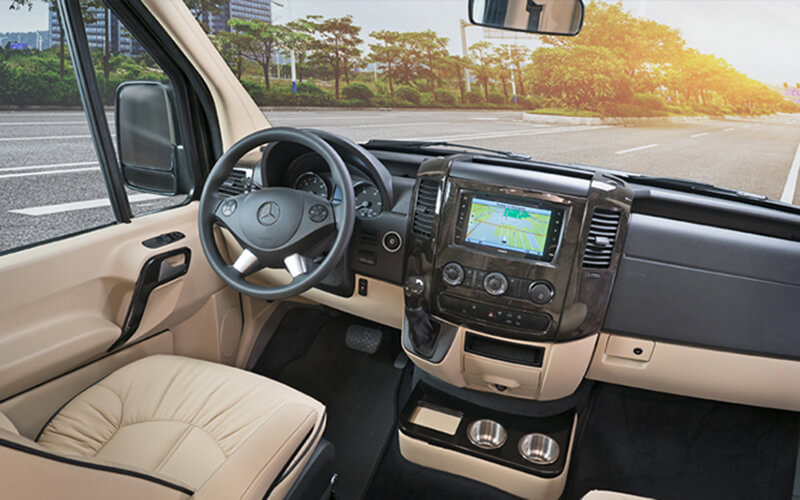 Passage 144 Sprinter Standard Exterior Equipment
Dark Tinted Side and Rear Windows
HD Digital Air TV Antenna
Tip-Out Windows
Cable TV Input
Fiberglass Running Board with Step
100 Watt Roof Top Solar Charging System
Color Keyed Bumpers and Body Moldings
Dual Battery Charging System with Monitor
Rear Hitch with Wiring Package
Conetic Deep Cycle 90 Amp Hour Battery
16″ Aluminum Rims
30 Amp 110 Volt Shore Line Power Hookup with Cord
Rear Back-Up Camera System
LP Remote Fill 15.1 gal Capacity
Power Awning with LED Light
Water Fill
LED Patio Light
Exterior Shower
110 Volt Outlet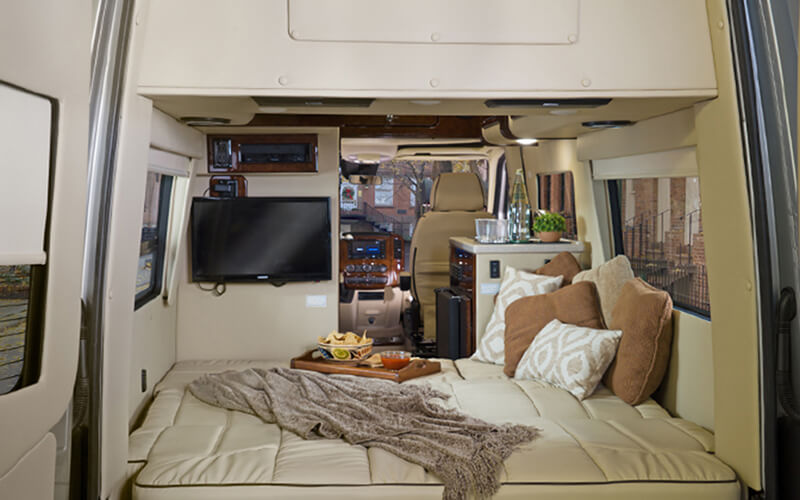 Passage 144 Sprinter Standard Interior Equipment
Suburban Water Heater
Wardrobe
13,500 BTU Roof Top AC (shore-line / Gen)
Soft Touch Automotive Color Keyed Walls
Espar Coach Furnace
Composite 1/pc Flooring system
2.5 KW LPG Generator
Soft Touch Automotive Headliner
2000 Watt Inverter / Charger / Transfer Switch
Coordinated Door Panels
ECO Charging System
Custom Dash and Door Handle Wood Grain Upgrade
Satellite TV Prep
Custom Floor Mats W/Non Slip Rubber Backing
Wi-Fi Prep
Driver and Passenger Deluxe Seating Recover
HDMI Input
Driver and Pass Front Swivel Seating
110 Volt Outlets
Custom Seating Pkg With Seat Belt Package
USB 12 Volt Chargers
Interior Entrance Grab Handle
Fusion In Dash NAV CD DVD AM/FM
Power Folding Rear Sofa Bed
Samsung HD LED Smart TV
Under Sofa Storage
Rear AM / FM Radio
Rear Luggage Storage Lighted
Rear Blue-Ray DVD/CD Player
Complete Insulation Package
Rear Speaker Upgrades
Complete Privacy Shade Package
Deluxe Lighting Controls (Multi-Plex)
Front Privacy Window Close Outs
Overhead and Floor Courtesy Lighting
Shower
Smoke, LPG, CO Detectors
Retractable Clothes Line
Fire Extinguisher
Shower Curtain
FanTastic Roof Fan w/Remote
Porcelain Toilet
Solid Surface Counter Tops
Power Bath Vent
Sink
Fresh and Grey Holding Tank Heat Pads
Induction Cook Top
Sani Flush Black & Grey Tank Flush
Refrigerator 12 Volt / 110 Volt
28 Gal. Fresh Water Holding Tank
110 Volt Convection Microwave
18 Gal. Grey Water Holding Tank
Removable Table / Dinette
15 Gal. Black Water Holding Tank
Overhead Cabinet Package With Hidden Hinges
View Passage Floorplans